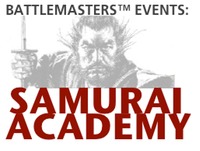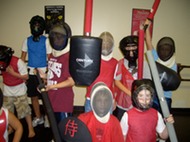 Happy Warriors!
ADVENTURE EVENTS & RETREATS
Are you responsible for arranging your corporate retreat or your team's next 'team-building' event? Do you want to do something DIFFERENT yet CHALLENGING for your youth group or adult group?
Arrange for us to bring the Samurai Academy to you and your group! Several different BattleGames have been designed to allow for individual and team behavioral metrics analysis. See what your people are REALLY made of! How do they respond to confrontation? Do they and can they make the 'right' decision under pressure? Do they follow the rules or think outside the box? All this and more can be incorporated into the Samurai Academy experience!
Would you like us to host an adventure event for you? Please fill out our online reservation form to get the process started.
-PAST SAMURAI ACADEMY EVENTS-
COMCAST FUN DAY: APRIL 2009

We taught some ComCast employees some swordfighting moves and stances then put it together in a BattleGame called CAPTURE THE TREASURE.. See stills here and some video here.